Fried Sushi - Heavy Blues Duo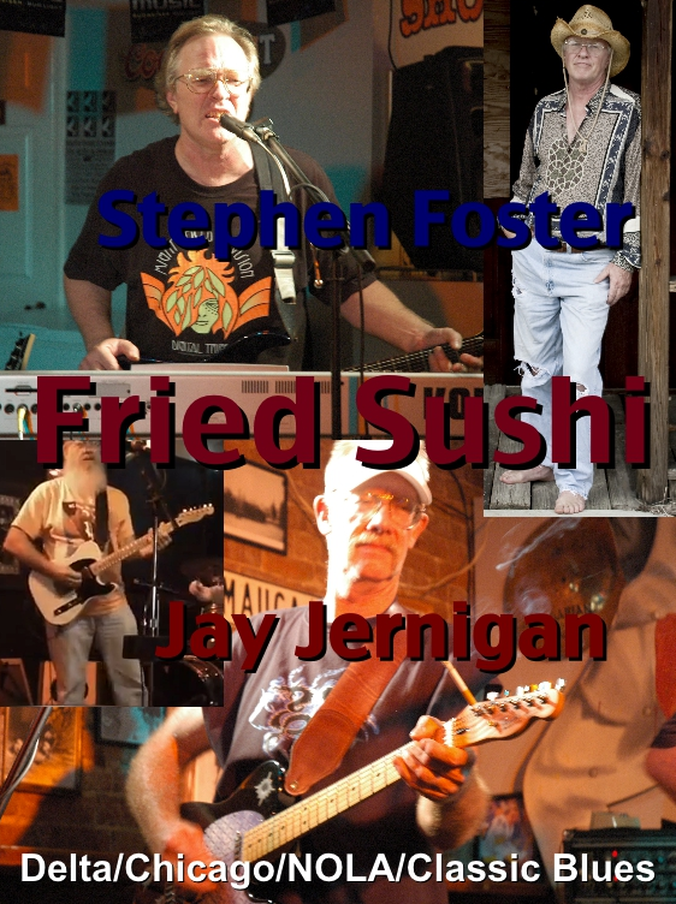 Fried Sushi is the working title of the duo composed of Stephen Foster & Jay Jernigan. We do a mixed list of original music, including some of our hits from
"Stephen Foster & Howler"
(six albums, platinum, charted hits; Steve & Jay are the core of that group) and a nice collection of classic Blues songs, including music from Muddy Waters, John Hammond, Robert Johnson, Lightnin' Hopkins and other Blues greats, plus prison work songs from Alabama, Mississippi, Texas, and Louisiana work gangs of the 1930s-40s. Add in some Americana, Southern Rock, Southern Folk and some whimsical nods to one-hit-wonders and you get an interesting evening from two great storytellers/songwriters.
No recorded tracks, just real interactive music from two Southern icons.
Jay Jernigan: Acoustic Guitars/Resonator/Electric Slide/Bass/Vocals

Stephen Foster: Acoustic Guitars/Keyboards/Electric Slide/Bass/Vocals
Fried Sushi Schedule
Aug 22 Swampers @ Shoals Marriott

Other booked dates:
Aug 30 W/ Mary Mason, Tupelo, MS
Stephen Solo Headlining Acoustic stage@ Shoals LaborFest Sept 1

For booking call Steve 941-855-0589