Phil Brown Booking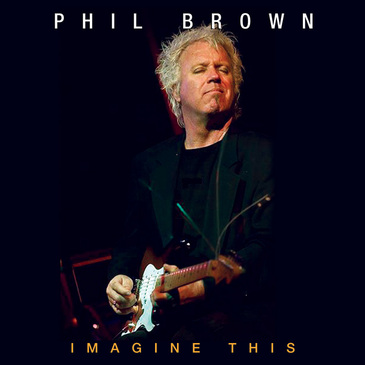 Phil Brown is "The JIMI Project". He's "Imagine This" and "Cruel Inventions". He's the songwriter you never heard of who wrote mega-hits you most certainly heard. He's the guitarist/vocalist who stunned Ronnie Wood and Keith Richards and has quietly become one of the world's greatest performers. He's an Icon, but he's not dead, not by a long shot. He's alive and his "Phil Brown Trio" is scary-good, a completely unique concert experience.


---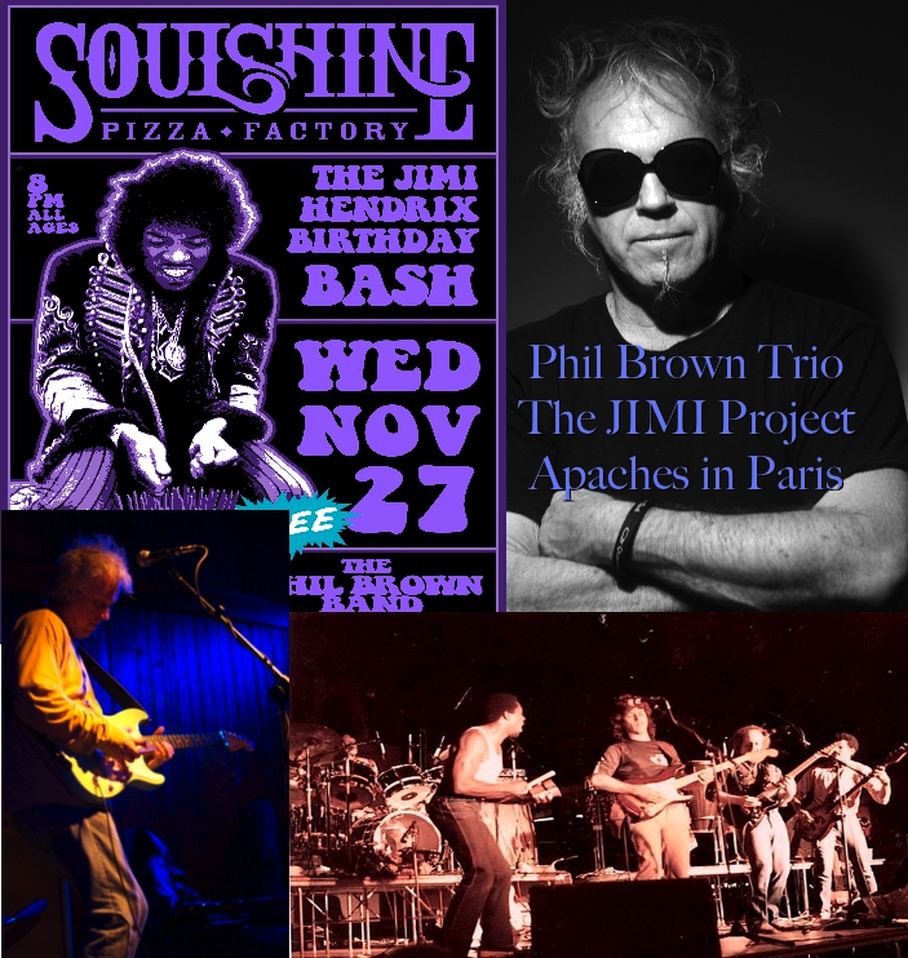 The Phil Brown Trio is a larger-than-life experience
Pricing:
Trio:
$2,500 plus expenses to 500 miles from Nashville. Call for extended travel rates
"Expenses" consists of rooms, meals, and gas mileage
Venues provide PA & Lights
Multi-night dates are available at discount.
Bio
Shortly after Los Alamos National Laboratory director Norris Bradbury helped create the atomic bomb, his music teacher wife unleashed another explosive force upon the world: Phil Brown. (
philbrownguitar.com
) Almost a half-century later this virtuoso tonemiester, singer, and songwriter is only just coming into the consciousness of guitar fans, let alone the general public.
When Brown's first record, Cruel Inventions, appeared at the millennium's turn, the lucky few who heard it were treated to a unique trifecta of Jeff Beck-style whammy work, Bowie-meets-Sinatra-esque vocals, and brilliantly crafted tunes reflecting the artist's years as a staff writer. "I wanted to get off the road so I spent 1983 to 1988 working for Warner Brothers and A&M Music ," recalls Brown.
While there he worked with many diverse hit artists and wrote for others - Cher, Kix, Pat Benatar, Willie D & Tower of Power, Doro Pesch, KBC, Ace Freely, Paul Barrere, Tommy Stephenson, Fiona, Steve Perry and Kim Carnes have all cut Phil's songs. This former front man for Little Feat (from the "Hoy Hoy" days right after Lowell George's passing) is still at it today.
While putting together the tunes that would become his next release "
Imagine This
" [Apaches from Paris], Brown took a detour, recording a CD of re-imagined Hendrix songs called "
The Jimi Project
". Obvious comparisons to Tony Bennett meets Chet Baker-esque vocals and the exceptional Jeff Beck influence is clearly felt throughout the soundscape. After hearing "
Cruel Inventions
", "
The Jimi Project
" and/or "
Imagine This
" it is hard to argue with Brown's process. Many players achieve awesome sound live, only to lose some of the magic in the studio but Brown's recorded sound is a tone fanatic's fantasy. Either on electric or acoustic guitars, Brown belongs in the same club as his heroes, such as Hendrix, Beck, Clapton, Pass, and McLaughlin - players whose sound resides as much in their touch and spirit as in any gear they might select.
"I am basically telling my life story when I'm playing guitar," says Brown. Finally hitting his stride at 63, he offers encouragement to players who persist long after others would give up. "We are not really playing music, we are making and selling a dream. Time is suspended when we play, and that is why music makes us immortal."
Endorsements:
"General music lovers will be attracted to an artist with great grooves, great vocals and most important real tunes--a rare enough combination in any genre. There is a feeling of a life lived. Though his sources may be close to the surface, his own personality shines through--something else that is too rare these days."
(Michael Ross - Guitar Player Magazine/Pure Music)
RECORDED LIVE IN 2006, "SHORTLY AFTER HIS THE JIMI PROJECT, BROWN'S SET IS MADE UP MOSTLY FROM THAT ALBUM. HIS FRETWORK AND SINGING SHOW THE TASTY AND NATURALLY FUNKY FEEL HE GIVES EVERYTHING WITHOUT EVEN SEEMING TO BREAK A SWEAT. A NICE TREAT IS A GORGEOUS "GOODBYE PORK PIE HAT" WITH COOL JAZZ CHOPS."
J.H. (VINTAGE GUITAR MAGAZINE) (AUGUST 2012)
"TRADITIONAL BLUES, CREATIVE JEFF BECK STYLINGS, AND DELICIOUSLY INTERPRETIVE HENDRIX COVERS RENDERED WITH SUPREME TASTE, BUT THAT DOESN'T TELL THE WHOLE STORY. BROWN IS A UNIQUE TALENT, WITH A DELICATE TOUCH THAT GUITARISTS DREAM ABOUT. CLEARLY, HE IS A HENDRIX DISCIPLE, BUT JEFF BECK'S TECHNIQUE IS NEVER FAR IN THE BACKGROUND. HE IS LIKE AN ELEGANT HYBRID OF HENDRIX AND BECK AT THEIR VERY BEST, WITH A SENSIBILITY THAT BRINGS HIM INTO THE 21ST CENTURY. HIS VOICE IS REMINISCENT OF DON HENLEY, AND HE USES IT TO GOOD EFFECT. AT THE END OF THE DAY, BROWN IS THE WHOLE PACKAGE: GREAT SINGING, UNBELIEVABLE CHOPS WITH MONSTER TECHNIQUE, AND DEEP FEELING THAT COMES THROUGH WITH EVERY NOTE. IF YOU'VE NEVER HEARD HIM, YOU'RE IN FOR A TREAT: THIS IS GUITAR HERO MAGIC THAT TRANSPORTS LISTENERS TO A MUSICAL REALM OF SHEER BLISS, RENDERED BY A MASTER WHO IS WORTHY OF HIS NOTED INFLUENCES."
STEVEN J. ROSEN (AUTHOR) (APRIL 2012)
PHIL BROWN HIMSELF ONCE SAID, "IF YOU WANT TO CHANGE YOUR LIFE, CHANGE YOUR MIND." I'LL GO ON THE RECORD SAYING THAT HIS MUSIC HAS CHANGED MY MIND AND MY LIFE FOREVER FOR THE BETTER. WITH A PRESENTATIVE FORMAT THAT IS AT ONCE FAMILIAR YET TOTALLY ORIGINAL AND INNOVATIVE TO THE HIGHEST ORDER OF MAGNITUDE, HE IS IN A LEAGUE OF HIS OWN. HE'S RESET THE BAR.. COMPLETELY. LONG LIVE THE MEMORY OF JIMI HENDRIX.. AND LONG LIVE THE ARTISTIC BRILLIANCE OF PHIL BROWN. HE IS TRULY A LEADER IN A FIELD OF ONE.
JIMMY RYAN (TRUTH SQUAD) (4.12)
Apaches From Paris
"Sometimes us guitar players wonder : will anyone ever do anything really fresh based on Jimi Hendrix' stellar output? Well stop wondering and track this down, because wondrous and subtle axeman has done it on this new record. From origins in New Mexico transfixed by The British Invasion and particularly J Beck Esq, Brown has played countless sessions and even a stint in Little Feat. His 'Cruel Inventions' CD was a (mostly self-penned) tour de force, not only for the spirited and full-blooded guitar work evident but also the dry growly vocals. They turn women into molten honey, aided and abetted by a guitar approach which values stealth and tone above millionnotespersecond wankery. Now Phil CAN play very fast, but like a boxer placing his blows he knows EXACTLY when to strike and when to hang back. Gritty chords float across the soundscape as Yellowjackets bassist Jim Haslip pumps subliminal unhurried runs into the mix and the brutal but expertly paced drumming of Gary Novak lifts the whole beguiling brew. It doesn't sound like the Experience at all, because Brown goes for radical rearrangements, making the selections Hendrix-composed but Brown-styled to suit his voice and his playing. Harmonics ping into your ears then twist away, biting blues runs evolve into Charlie Byrd mysticism, a hint of flamenco whistles by. Think that nobody can reinvent 'Manic Depression' or 'I Don't Live Today' ? Think again. Sexy music for both sexes… on all planets"
Pete Sargeant